Shark and Spanish - $550
We will troll and sight fish close to the beach and around the Shrimp boats for Sharks, Spanish Mackerel, Bluefish, Atlantic Bonito and False Albacore.
---
Half day - $600
We will fish out to 10 miles or so for Black Sea Bass, Grouper, King Mackerel, Cobia, Amberjack, Barracuda and Sharks.
---
3/4 day offshore - $850
We venture a little further out on this trip and catch a few different larger species like Dolphin(Mahi), King Mackerel, Cobia, Grouper, Sea bass, Trigger fish, Grunts, Barracuda, Large Amberjack and larger sharks. (Beach out to 20 miles)
---
Full day offshore - $1200
We have a full day to go where we need and use different techniques like trolling, live baiting, jigging and bottom fishing to catch Dolphin (Mahi), Sailfish, King Mackerel, Cobia, Grouper, Snapper ,Trigger fish, Jumbo Sea Bass, Hurricane Grunts, Large Amberjack, Barracuda and( large) Sharks. ( Beach out to 40 miles)
---
Gulf Stream - $1400
Catch the hardest fighting and best tasting fish in the ocean. We can troll for pelagic species all day or make it a combo trip , pelagic in the morning and bottom fishing and jigging in the afternoon. This trip is for the hardcore angler or hardcore angler to be, as we may run 60 to 70 miles one way to catch our query. We target Mahi, Wahoo, Tuna, Sailfish and of course the Majestic Blue Marlin. Bottom fishing we will target Grouper, Snapper, Tilefish and others. Billfish are catch and release only, however we can arrange a mount of your catch thru Gray's taxidermy.
---
Winter Bluefin Tuna - Call for Pricing and availability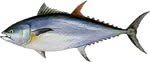 These Giants are arguably the hardest fighting fish in the ocean and are on all anglers bucket list.We use a variety of techniques to catch our query like jigging,trolling and live baiting. Atlantic Bluefin in NC can weigh up to 500 lbs or more. Make reservations early as the season is short.
---
Pay Your Deposit
---
Things To Know....
Do not see a trip that works for you? We will customize any trip to fit your needs. We also have eco tours, sunset cruises,Holiday specials like Christmas Flotilla and Fourth of July Fireworks available. Please call for prices and availability.

*Do you have a sister, wife, or girlfriend who would love to take a charter but feels intimidated? Or are you a group of ladies who are taking a charter and would prefer female guidance? Well, we are a fishing family and my wife Kristy is an avid and accomplished sport fisher who is available to mate for any charter.

*Charter prices are based on 4 passengers $50 each additional with a maximum of 6 passengers total ( If your party is larger we can arrange another vessel to buddy with for the day)

Charters include your NC fishing license, bait,tackle and ice

What to bring -Food,drink, sunblock, polarized sunglasses, Boat shoes or something with non skid soles,rain gear just in case and a cooler to bring your fish home(we will catch fish)!

*Seasickness- The night prior to your trip get plenty of rest and go light on the adult beverages and greasy food. Drink plenty of water to stay hydrated and take a dose of Dramamine or Meclizine (Bonine) before bedtime. The morning of the trip, eat a non greasy breakfast and take it easy on the coffee and Orange juice. Take another dose an hour prior to departure and you should have a great day on the water.

*Cancellation policy – A $200 deposit is required to hold your date. Deposits are non refundable for no shows. A 4 week cancellation notice is required to receive a refund of the deposit. Cancellation due to inclement weather is the Captains call (safety is a priority) and you will receive a full refund or have the option to hold a different date. A 4% processing fee will be charged for all credit card transactions.

*Mates work for Tips(15-20% )of charter is industry standard and appreciated for good service

***We do not charge a fuel surcharge, our rates are what you pay no more***